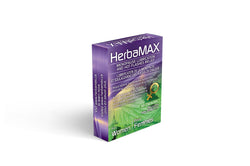 Health Bloom Inc.
HERBAMAX VAGINAL DRYNESS AND MENOPAUSE
PRODUCT DESCRIPTION
Recommended use or purpose:
Helps relieve menopausal symptoms including vaginal dryness and hot flashes.
Risk Information:

Cautions and Warnings 

If you have a history of uterine or breast disease, are taking blood thinners, or have a liver disorder consult a health care practitioner prior to use. Consult a health care practitioner if symptoms worsen or if you develop symptoms of liver trouble. If you are taking antidepressants or if you are taking hormone-containing medications such as progesterone preparations, oral contraceptives or hormone replacement therapy consult a health care practitioner prior to use. If menstruation is delayed or absent, discontinue use and consult a health care practitioner.

Contra-Indications 

Not to be taken during pregnancy, or while breastfeeding. If you have allergy/hypersensitivity to members of the Apiaceae/Umbelliferae family (anise, caraway, carrot, celery, dill, parsley), do not use this product.
INGREDIENTS
Black Cohosh (Actaea racemosa) 12:1 Extract – 40 mg – EQT 480mg, Don Quai (Angelica sinensis) 10:1 Extract – 125 mg – EQT 1250mg, Maca (Lepidium meyenii) – 20:1 Extract – 75 mg – EQT 1500mg, Dandelion (Taraxacum officinale) 4: 1 Extract – 65 mg – EQT 260mg, Damiana (Turnera diffusa) 20:1 Extract – 25 mg – EQT 500mg. Chaste Tree (Vitex agnus-castus) 10:1 Extract – 125 mg – EQT 1250 mg